This recipe is SO easy to throw together in the morning to let cook all day. This recipe is a definite hit with our family!
Crockpot Beef Stroganoff
- adapted from
Kraft foods here
Serves 6-8
2 lbs beef stew meat, cut into 1 inch cubes
454 grams sliced mushrooms
1 medium onion, minced
1 clove garlic, minced
1 1/2 cups beef broth
2 tsp paprika
1 tsp salt
1 cup sour cream
4 Tbsp flour (depends on how much broth you used. Start with 2 Tbsp flour, and go from there.)
1 Tbsp dijon mustard
1 large package of egg noodles
2 Tbsp chopped fresh parsley
Place meat, mushrooms, onions, and garlic in crockpot. Add broth, paprika, and salt. Cover and cook on low for 7-8 hours until meat is tender and cooked. Mix sour cream, flour, and mustard. Stir into crockpot, cover, and then cook an additional 15 minutes to thicken. Add more flour as needed to thicken. (Meanwhile, cook the egg noodles.) Toss noodles with chopped parsley. Spoon meat mixture on top and garnish with more parsley.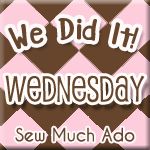 Linking up to Raising Homemakers