I think I may have discovered a new hobby - making over cheap furniture. I really, really, really wish I would have taken a better before and after picture. The ones I have just don't do it justice. Honestly, the difference is amazing. We bought this 9 drawer dresser for $25 from the people we bought our house from. It is cheap veneer and not very solid. It had gold handles and was quite the eye sore. After making over my cheap $5 pine nightstands, I decided to try my hand at a bigger project and tackle this dresser. I am beyond thrilled with the results because now our bedroom has "matching" furniture...2 nightstands and a dresser (all painted in Benjamin Moore's Decorator's White)! The white looks so good with the Moonshine (Benjamin Moore greyish blue paint colour), but it's hard to tell the true colours in the pictures.
If you want to know how to paint almost any piece of furniture, check out
my instructions here.

Here's how it went down:
I saved a lot of money by spray painting the gold handles instead of replacing them. If you like the style of your old hardware, I highly recommend doing this. The spray paint only cost me $10. I used Rustoleum metallic spray paint in satin nickel. Buying new hardware would have cost at least $5 per handle for $45 total instead of $10. We had looked for new hardware, but the holes were a weird space apart and we could only find one style that was the right size, and it was ugly. So, instead of having to fill in the holes and then sand it down, I opted for spray painting the original handles. I am very happy with the results!
I did the usual sand, oil primer/sealer x2, Decorator's White latex paint x2. That's really all there is to it. For painting the mirror, I used painter's tape to tape newspaper to cover the whole thing. This worked great and left me with clean lines.
A close up of the drawers and handles:
Here's what our master bedroom currently looks like: (umm...ignore the bad bed-making job!). Now I just need to hang a few prints above the bed and hang up our wedding pictures!
Quite a difference from before! To see the very first before picture, you'll have to check out the
tour of my home
and find the master bedroom (a greenish colour before!)
Once I have the master bedroom completed, I will do a post and a breakdown of the decorating process. And yes..it is a process!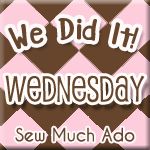 *Linking up to
Blue Cricket Design show and tell
*Linking up to
House of Hepworths