This recipe is so easy to put together and the flavour combination is delicious. This is what I consider a "fancy" tasting dish without all the work! I think it takes me longer to pack my husband's lunch than it does to throw this together :-D.
Crockpot Pomegranate Cranberry Beef -
adapted from
Crockpot 365 here
1 tablespoon olive oil
1 onion, sliced
1/4 tsp ground cinnamon
1 tsp basil
1 tsp thyme
1/2 tsp salt
3 pounds boneless beef (I usually use stew beef)
4 cloves garlic, peeled
1 14 oz can crushed tomatoes
1 cup cranberry pomegranate juice (I use Ocean Spray)
1/4 cup balsamic vinegar
2 Tbsp maple syrup
Swirl the oil in the bottom of crockpot. Add the sliced onion, spices, garlic, crushed tomatoes
,
juice, vinegar, and syrup. Combine well. Cover and cook on low for 8 hours or until meat is tender
.
Serve with mashed potatoes with the sauce drizzled overtop.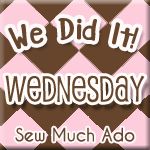 *Linking up to
Women Living Well Wednesdays

Linking up to
Raising Homemakers