This is one of my favourite ways to use rhubarb. This stuff is seriously SO good, especially on a hot summer day...Of course, we haven't had many of those yet, but even on a rainy day, this was still really good. You can make a big batch ahead of time and store it in the freezer until you need it. I first tried this at my mother-in-law's place, and that's where I got the recipe.
Rhubarb Slush
8 cups rhubarb (fresh or frozen)
8 cups of water
2 cups sugar
2 cups boiling water
2 Tbsp strawberry jelly powder
1/4 cup lemon juice
2 cups pineapple juice
In a large saucepan, bring rhubarb and 8 cups water to a boil, simmer 10 minutes, then strain. Reserve the juice. Combine sugar, jelly powder, and 2 cups boiling water. Stir until dissolved. Stir into rhubarb juice. Add pineapple and lemon juices and mix well. Allow to cool, then freeze juice in smaller containers. To use, allow it to thaw slightly, scoop with an ice cream scoop and add an equal amount of ginger ale. Yields 35-40 servings.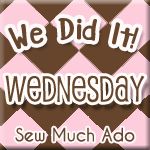 *Raising Homemakers
Homemaking Link-up*